I know there has to be a couple of other PC gaming nerds here, so I just wanted to share a bit about the coolest piece of tech I've ordered recently. Mice can get pretty pricey for the good ones, so right up front it should be said this is a $160 mouse, dedicated to PC gaming. If you don't look at the price and immediately want to laugh/click the "back" button, read on...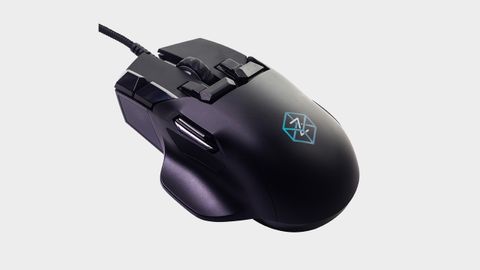 This thing is really unbelievable. A quick bullet-pointed list to make it simple to understand:
* Pressure-sensitive buttons (LMB, RMB, and 3 other buttons). This means you actually have a percentage of your press on any of those buttons, which you can use with the software..more on that in a bit. The LMB and RMB clicks are normal, tactile clicks, so it's not like an analog trigger. But you have a percentage value that you can use as a trigger for events.
* Gyro - You can tilt the mouse for different functions. Tilt can simulate mouse movement, or a joystick/gamepad.
* Accelerometer - You can "flick" the mouse in different directions to fire scripts that you want.
* On the fly profile switching (angle the mouse at 45 degrees and press a specific button to cycle profiles).
Now, that's all one of those "cool....but what does that mean?" scenarios. Putting this in practice, let's say I'm playing Rainbow Six Siege, where we have lean, scoping, and maybe want higher precision when scoping.
I can create a R6 Siege Profile, and set the mouse tilt left/right to map to the "lean left/right" keys in R6 siege, and determine the lean percentage I want it to trigger at. So I might need 15 degrees for a lean, and rather than reaching for lean keys on the keyboard, a simple tilt of the mouse handles it.
I also want higher precision if scoping. So a RMB will use normal settings, but if I map a "hard press" (let's say 50%), I drop the DPI to half. Maybe 90% would drop it to 20%. So it has a progressively deeper DPI setting the more I press the RMB. This is marvelous in any shooter I've played so far. It became second nature to simply press a bit harder to get more precision.
Lastly, with the accelerometer, I programmed a quick flick up as reload. So I can be strafing, firing, scoping, leaning, and a flick of the wrist to reload, without doing any sort of finger gymnastics.
In something like Ghost Recon, when I get into a helicopter, the mouse simulates gamepad movement, so I swap profiles to a chopper profile I had, and now the tilt and lean of the mouse is like I have a hand "on" the helicopter, and simply leaning it or tilting it moves it. It's a trip, but very intuitive. Same with a racing game, where tilting the mouse = steering.
There's a few different 'feet' (flat, tilt only, or full tilt/lean, but that takes away the ability to use it as a mouse...but it's a magnetic plate, so you can simply reach down, take off the plate, and swap profiles and be off and running).
So...really, it's the first new piece of "hardware" I've seen in years that added some useful functionality, and in practice, it really made everything I'm doing more efficient. The thing has been out for a couple of years, but I only recently found out about it. If there are any other tech-nerds who game on PC a lot here, I couldn't recommend it enough.
https://www.swiftpoint.com/store/swiftpoint-z-mouse/